9 Great Gift Ideas for Mom
We know it's impossible to tug at the heartstrings of mom the way our grade-school homemade gifts did, but we are here to help you find the next best thing to a macaroni necklace.
9 Great Mother's Day Gift Ideas
♥ Things I Love About Mom from Coles is the next best thing to macaroni-art. Heartfelt fill-in-the-blank lines to describe why your mom's the best. This personalized gift will be sure to move you up the favorite child list.
♥ What mom doesn't want to melt away tension and stress at home? This Hidden Gems Frosted Lavender Candle luxury candle from Showcase uses premium quality natural oils. The oil's produce the most calming and stress-relieving atmosphere! Best of all, inside each Hidden Gems Pendant candle is a dazzling pendant necklace.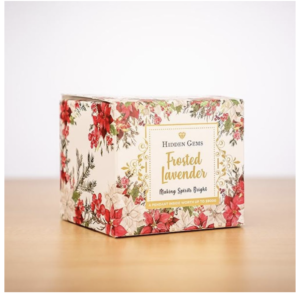 ♥ Pick out a gorgeous frame and place a gift certificate for family photos from Image Studios in it. Warning: You may wish to include a box of tissues as every mom just wishes time could stand still.
♥ All about promoting self-care to your mom? Make your own self-care kit for her with essential oils or bath bomb fizzies from The Body Shop. The fizzies are great value so you can choose a few different fragrances and mom can try them all.
♥ If you are a university student or older child that no longer lives in the same city, this Compass Rope Pendant With Diamonds in 10kt Yellow Gold from Michael Hill is perfect. Thow in a in a touching note saying that you will always find your way home.
♥ Gifting quality time with mom and those that she loves is always a winning choice. Grab some take-out and go for a picnic by the water, or plan a Brown's Social House dinner with delicious food and fantastic conversation.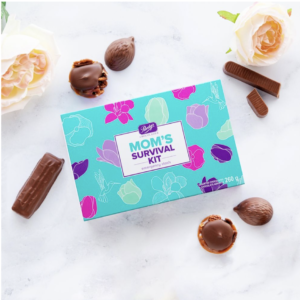 ♥ Any chocolate from Purdy's will definitely make mom smile! Pair it with a bottle of wine and this Mom's Survival Kit is a delicious way to say "I love you". Who knows maybe you can even convince her to share the chocolate.
♥ Looking to get a chuckle out of mom? Go for a card with a lotto ticket inside. Let her know that she won the jackpot when she got you as a kid, but winning on this ticket would be a close second.
♥ Set her up for a perfect relaxing chill night with a Sherpa Blanket from Just Cozy and a great book from Coles.
Your mom will be sure to love however you choose to celebrate her. That being said, some final words of advice, if your gift is a 5-course meal make sure you include washing the dishes as part of it. 😉
Looking for more great Mother's Day Shopping? Check out the Mother's Day section on Village Green Shopping Centre's SHOP page. Make a wish list of your favourite products, see if inventory is available before you arrive, or purchase and have it delivered right to your door.